Debit Cards
Great Southern Debit Cards

Report a lost or stolen Debit Card 24/7: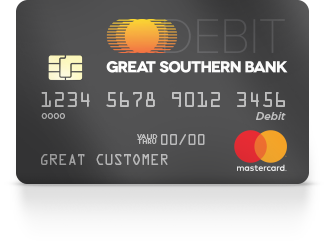 Packed with Power
Your Great Southern Chip Debit Card comes packed with a lot more power than simply getting cash at an ATM or dropping by the market to pick up a few breakfast ideas, and it all starts with a Great Southern Bank checking account.

Fraud Watch
Fraud Watch alerts to your phone and email as soon as we notice something sketchy at zero cost to you 1

Chip Technology
Provides enhanced protection against fraud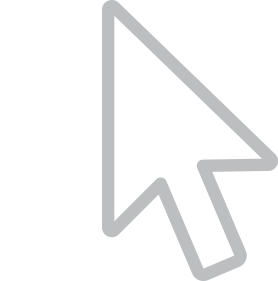 Debit On/Off
Debit On/Off lets you lock and unlock your card whenever you like


Instant Issue Cards
Visit a location and walk out with a new debit card in your pocket - thanks to Instant Issue cards
If you have more questions, our Debit Card Services Department is here to help you Monday - Friday 6:30 a.m. - 9:00 p.m. CT and Saturday - Sunday 8:00 a.m. - 9:00 p.m. CT at 800-749-7113.

How do I get a new debit card?

How does a debit card work?
Your debit card works in conjunction with your checking account. Simply pay with your card, and the amount of the purchase is deducted from your checking account.

What are my chip debit card limits?
You are limited to $2,000.00 per day in point of sale (POS) transactions. To increase them, please call (800) 749-7113
Please visit any Great Southern Bank location to obtain a new debit card.

My chip debit card was lost/stolen. What do I do now?
It's not a perfect world. If your debit card does get lost or stolen, please contact us as soon as possible and we'll take immediate action to secure your account.
Monday-Friday: 6:30 a.m. - 9:00 p.m. CT
Saturday-Sunday: 8:00 a.m. - 9:00 p.m. CT
(800) 749-7113 

What do I do if I want to travel with my card?
Our fraud prevention system flags any unusual activity on your debit card, which could result in your card being declined at out-of-state or foreign merchants. To keep your card secure and accessible while abroad, just give us a call before you leave.
Debit Card Services
(800) 749-7113

---
Just for you


Empower yourself
Check out our Financial Education Center and equip yourself with the tools and knowledge you need to create sound financial decisions.
Get Started


Open an account in no time
We know your time is valuable. That's why we made account opening easier than creating that latte. Refreshing.
Learn More


Be part of something greater
If you love building winning relationships, join the Great Southern Team and open doors to a career in the financial industry.
Learn More