Volunteerism
At Great Southern Bank, we believe in volunteerism and the impact it has on the overall health of our communities. Our associate's actions reflect our Company's charitable spirit. Our bankers are more than just bankers. They are mentors, spending their lunch hour tutoring second graders; they are board members, offering their leadership and experience to local nonprofit organizations; they are advisors, attending Chamber meetings working to bring more jobs to their town; they are educators, offering tips to seniors of how to safe guard their hard-earned money.
We are proud of our associates and support their efforts to strengthen our communities, making them better places to live, work and do business.
---
Bill and Ann Turner Distinguished Community Service Award
Great Southern Bank's annual Bill and Ann Turner Distinguished Community Service Award was created to emphasize the importance placed on volunteerism at Great Southern Bank by honoring one outstanding associate who demonstrates excellence in volunteer service to their community. Associates throughout the Company have the opportunity to nominate coworkers they believe are worthy of this honor. A committee comprised of community leaders review the nominations and select an annual recipient. On the winner's behalf, Great Southern Bank donates $1,500 to their charity of choice.

2019 Award Recipient: Eric Mitchell
A true leader in his community with a sincere passion to help those around him succeed, Eric's strong commitment to empower individuals and families in poverty to be self-sufficient embodies the spirit of our Community Matters Program and the integrity of this award.
Consistently offering his time and expertise in banking, Eric has a passion to empower those around him succeed. He is committed to financial education and is involved in community organizations that are focused on reducing the rates of poverty in the St. Louis area. Eric teaches financial education workshops, sharing his own experiences and financial knowledge with participants, including budgeting and credit basics, as well as the benefits of having a traditional banking relationship for these individuals who are entering or re-entering the banking system. Most importantly, he has the ability to build trust with people by connecting with them on a personal level. Eric's advice for those wanting to volunteer is, "Understand the organization that you're volunteering for, understand the people that you are going to be helping, and if you're going to do it, do it 100%. If we can help at any level, we should jump right in and be a part of it. Be a part of something that's going to help change someone else's life." 
In honor of Eric's outstanding volunteer service, Great Southern Bank has made a donation to Upsilon Omega Foundation and Pathways to Progress, an initiative of Catholic Charities of St. Louis.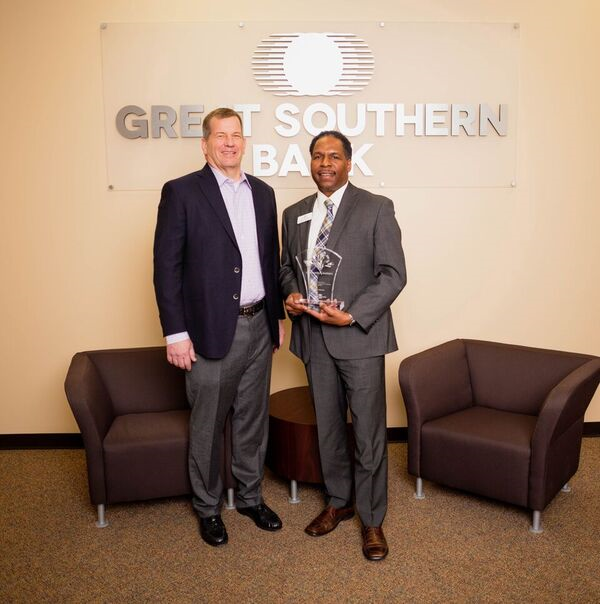 Pictured from left to right: Joe Turner, President and CEO of Great Southern Bank; Eric Mitchell, 2019 Award Recipient and Retail Banking Regional Manager for Great Southern Bank.

---
Past Distinguished Community Service Award Recipients:
2018 Award Recipient: Lynn Hinkle
2017 Award Recipient: Pam Sherrill
2016 Award Recipient: Brian Davies
2015 Inaugural Award Recipient: Andrea Brady