Volunteerism
At Great Southern Bank, we believe in volunteerism and the impact it has on the overall health of our communities. Our associate's actions reflect our Company's charitable spirit. Our bankers are more than just bankers. They are mentors, spending their lunch hour tutoring second graders; they are board members, offering their leadership and experience to local nonprofit organizations; they are advisors, attending Chamber meetings working to bring more jobs to their town; they are educators, offering tips to seniors of how to safe guard their hard-earned money.
We are proud of our associates and support their efforts to strengthen our communities, making them better places to live, work and do business.
---
Bill and Ann Turner Distinguished Community Service Award
Great Southern Bank's annual Bill and Ann Turner Distinguished Community Service Award was created to emphasize the importance placed on volunteerism at Great Southern Bank by honoring one outstanding associate who demonstrates excellence in volunteer service to their community. Associates throughout the Company have the opportunity to nominate coworkers they believe are worthy of this honor. A committee comprised of community leaders review the nominations and select an annual recipient. On the winner's behalf, Great Southern Bank donates $1,500 to their charity of choice.

2020 Award Recipient: Terry Framke
Terry Framke is a motivated leader in her community, and her acts of kindness leave an impression. With her enthusiasm and genuine dedication to helping others, she motivates those around her to take pride in their community. With a population of 2,900, Onawa is described as a progressive, rural residential and industrial community, known for its rich and colorful history, but there are also many needs. That is where leaders like Terry make all the difference; she is able to recognize the needs, visualize a solution and encourage others to join together to make a positive impact. 
In 2019, Terry was recognized for 29 years of dedicated volunteer service as a board member for Burgess Health Center, as she is passionate about access and quality of healthcare in her region. "Terry has been tireless in her support of healthcare in the Onawa area... she has helped navigate some very troublesome times to help establish the stability we have today," said Fran Tramp, President of Burgess Health Center in Iowa. "Great Southern could not find a better community representative than Terry - she genuinely cares about Onawa, its members, and is not afraid to do the hard work to improve the community and the lives of its residents."
In acknowledgment of Framke's outstanding commitment to her community, Great Southern Bank has donated $500 each to the Onawa Fire Department, Monona County Fair, and Friends of the Onawa Public Library, on her behalf.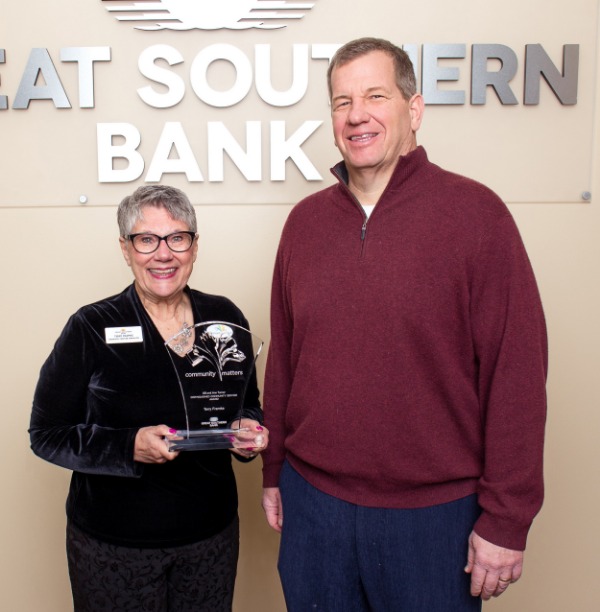 Pictured from left to right: Terry Framke, 2020 Award recipient and Banking Center Manager for Great Southern Bank; Joe Turner, President and CEO of Great Southern Bank.

---
Past Distinguished Community Service Award Recipients:
2019 Award Recipient: Eric Mitchell
2018 Award Recipient: Lynn Hinkle
2017 Award Recipient: Pam Sherrill
2016 Award Recipient: Brian Davies
2015 Inaugural Award Recipient: Andrea Brady