Volunteerism
At Great Southern Bank, we believe in volunteerism and the impact it has on the overall health of our communities. Our associates' actions reflect our Company's charitable spirit. Our bankers are more than just bankers. They are mentors, spending their lunch hour tutoring second graders; they are board members, offering their leadership and experience to local nonprofit organizations; they are advisors, attending Chamber meetings working to bring more jobs to their town; they are educators, offering tips to seniors of how to safe guard their hard-earned money.
We are proud of our associates and support their efforts to strengthen our communities, making them better places to live, work and do business.
---
Bill and Ann Turner Distinguished Community Service Award
Great Southern Bank's annual Bill and Ann Turner Distinguished Community Service Award was created to emphasize the importance placed on volunteerism at Great Southern Bank by honoring one outstanding associate who demonstrates excellence in volunteer service to their community. Associates throughout the Company have the opportunity to nominate coworkers they believe are worthy of this honor. A committee comprised of community leaders review the nominations and select an annual recipient. On the winner's behalf, Great Southern Bank donates $1,500 to their charity of choice.

2021 Award Recipient: Avi Suri
Avi Suri is a dedicated volunteer for many causes and she puts her actions where her heart is. Those who know her are inspired by her desire to help others by participating in many volunteer activities, but also her ability to lead and motivate others to help, too. The COVID-19 pandemic created a strain on many nonprofits and Avi quickly jumped into action, using her abilities to help however she could. She volunteered with Sikhs of St. Louis, preparing meals, making masks and volunteering at weekend food drives, ensuring those in need were taken care of. Through her involvement with 911 Day - Tomorrow Together, Suri also coordinated a collection of personal hygiene items as well as monetary donations for those in need, in effort of turning a day of tragedy into a day of doing good.
Great Southern Bank president and CEO Joe Turner praised her involvement, saying, "Avi's passion to give so much of her time and energy, especially during such a difficult year, is inspiring. I have no doubt that her volunteerism and leadership are promoting positive change in her community. We couldn't be more proud to have Avi on our team and celebrate her outstanding volunteer service."
Avi's selfless actions in the community align with the spirit of our Community Matters program and the integrity of the Bill and Ann Turner Distinguished Community Service Award. In acknowledgement of Suri's dedication to her community, Great Southern Bank has donated to Sikhs of STL and Community Living, Inc. on her behalf.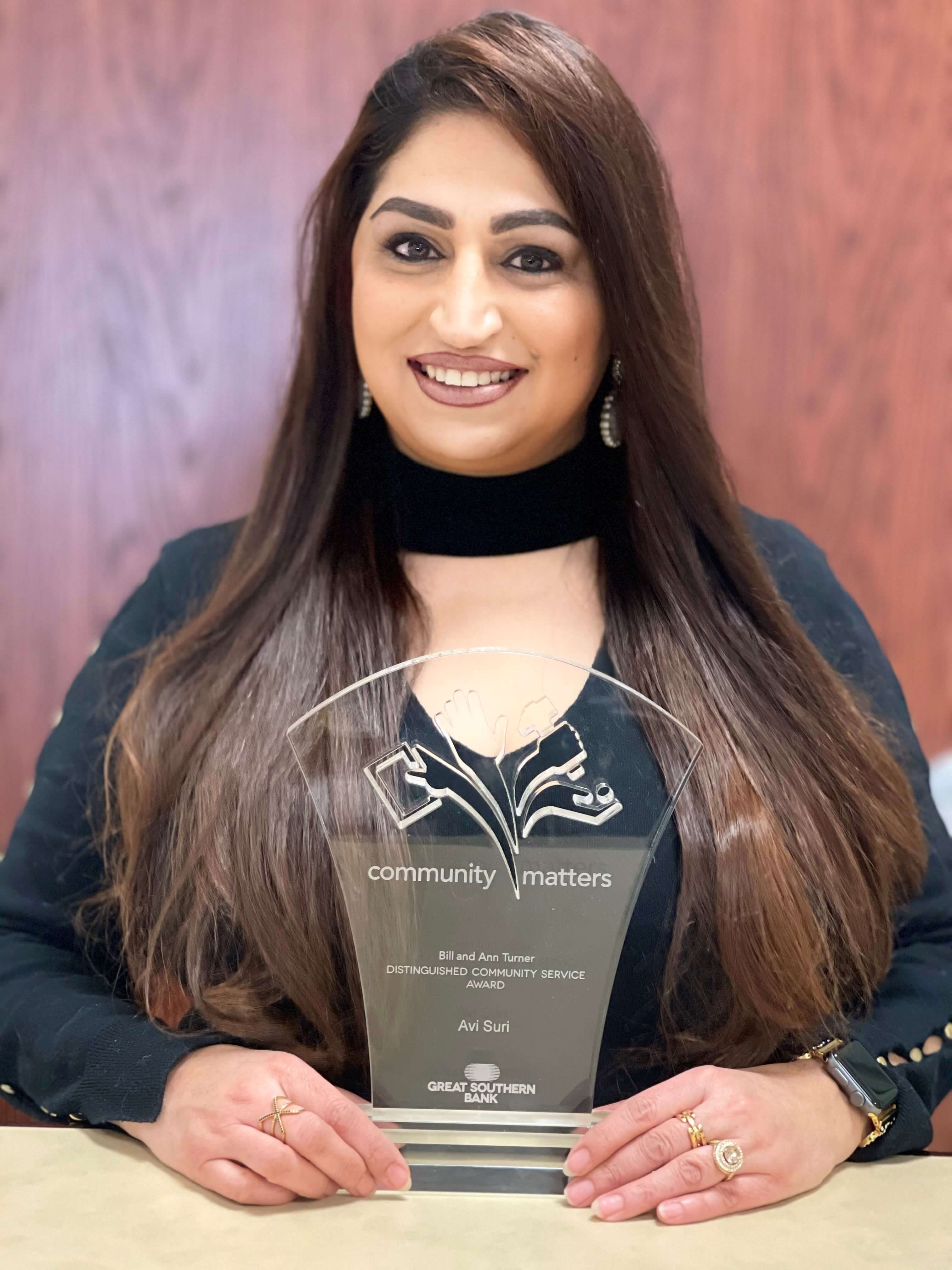 Avi Suri, 2021 Award recipient and Banking Center Manager for Great Southern Bank.

---
Past Distinguished Community Service Award Recipients:
2020 Award Recipient: Terry Framke
2019 Award Recipient: Eric Mitchell
2018 Award Recipient: Lynn Hinkle
2017 Award Recipient: Pam Sherrill
2016 Award Recipient: Brian Davies
2015 Inaugural Award Recipient: Andrea Brady