Volunteerism
At Great Southern Bank, we believe in volunteerism and the impact it has on the overall health of our communities. Our associates' actions reflect our Company's charitable spirit. Our bankers are more than just bankers. They are mentors, spending their lunch hour tutoring second graders; they are board members, offering their leadership and experience to local nonprofit organizations; they are advisors, attending Chamber meetings working to bring more jobs to their town; they are educators, offering tips to seniors of how to safe guard their hard-earned money.
We are proud of our associates and support their efforts to strengthen our communities, making them better places to live, work and do business.
---
Bill and Ann Turner Distinguished Community Service Award
Great Southern Bank's annual Bill and Ann Turner Distinguished Community Service Award was created to emphasize the importance placed on volunteerism at Great Southern Bank by honoring one outstanding associate who demonstrates excellence in volunteer service to their community. Associates throughout the Company have the opportunity to nominate coworkers they believe are worthy of this honor. A committee comprised of community leaders review the nominations and select an annual recipient. On the winner's behalf, Great Southern Bank donates $1,500 to their charity of choice.

2022 Award Recipient: Mary Dunavant
Mary's coworkers have described her as compassionate and a true leader. She excels at inspiring and encouraging those around her to be involved in volunteerism while rolling up her sleeves to give her own time and talents to many nonprofits in her community. A team player, Mary regularly coordinates volunteer efforts between retail associates and commercial lending associates throughout the St. Louis region.
With a passion for feeding her neighbors in need, Mary has volunteered for several years with Operation Food Search, an organization that works beyond immediate food assistance to address the root causes of hunger. She regularly coordinates volunteer days where associates throughout the region are encouraged to attend with her and give back to their community. Mary joined others in the St. Louis area to pack meals on September 11 for 911 Day, an organization that is transforming a day of tragedy into a national day of service and recognition. This past year, she was part of 200,000 meals pack for local neighbors in need.
Mary puts her actions where her heart is, dedicating countless hours to Born to Read and Marian Middle School. Mobilizing those around her to pack bags with books for every baby born in St. Louis County, Mary does her part to ensure that every child has access to literacy. Mary recognizes the poverty sprinkled throughout her community and dedicates resources and time to Marion Middle School each year. The school is the only all-girl private middle school in St. Louis and is committed to breaking the cycle of poverty.
Nonprofit organizations rely on the help of individuals like Mary to volunteer to help with hands-on tasks to help them get the job done. Mary's dedication to taking time to organize volunteer opportunities, offering her time and support annually is commendable.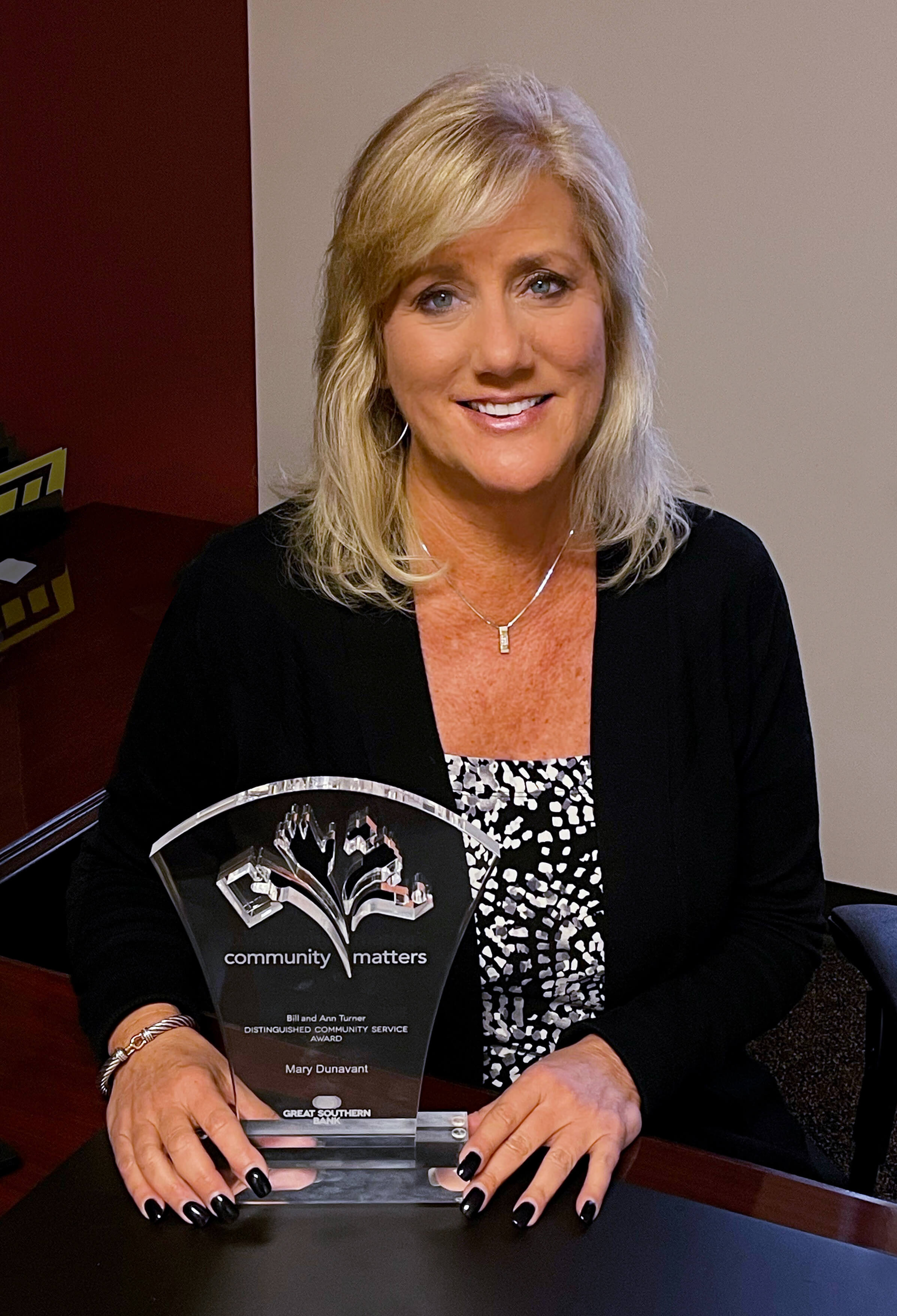 Mary Dunavant, 2022 Award recipient and St. Louis Retail Banking Regional Manager for Great Southern Bank.

---
Past Distinguished Community Service Award Recipients:
2021 Award Recipient: Avi Suri
2020 Award Recipient: Terry Framke
2019 Award Recipient: Eric Mitchell
2018 Award Recipient: Lynn Hinkle
2017 Award Recipient: Pam Sherrill
2016 Award Recipient: Brian Davies
2015 Inaugural Award Recipient: Andrea Brady