News
Information is power.
We'll keep you posted on what's happening in the Great Southern universe and beyond. Community events, policy updates, fraud prevention and other tips…you name it.
Great Southern Bank to Acquire Twelve Branches in the St. Louis Region

September 30, 2015
Branch acquisition doubles total deposit balances in the market area
Great Southern Bank, a wholly-owned subsidiary of Great Southern Bancorp, Inc. (NASDAQ:GSBC) announced today that it has entered into a purchase and assumption agreement to acquire 12 branches and related deposits and loans from Cincinnati-based Fifth Third Bank. The acquisition, currently representing approximately $261 million in deposits and $155 million in loans, is expected to be completed in the first quarter of 2016, pending regulatory approval. This acquisition will increase Great Southern's St. Louis-area banking center total from eight to 20 offices. Based on the expected amount of loans to be acquired and deposits assumed, it is anticipated that beginning in 2016 this transaction will be accretive to earnings in the range of $0.07 to $0.09 per common share annually. 

"Great Southern has served the St. Louis-area market with a physical presence since 2005. During the last 10 years, thanks to our excellent St. Louis team of associates, we have continuously attracted and developed customer relationships, making St. Louis our second largest market. This transaction will significantly strengthen our presence in this vibrant region," said Great Southern President and CEO Joseph W. Turner. "We warmly welcome Fifth Third's retail and small business customers and its strong team of associates to Great Southern and look forward to working with them to build even stronger relationships with area customers."
Fifth Third Bank customers at the St. Louis-area branches should continue to bank as they always have until further notice. Important information about the acquisition will be mailed to customers in the coming days and weeks.
"We expect to transfer Fifth Third customer accounts to Great Southern in the first quarter of next year," said Turner. "Our goal is to make this transition as smooth and timely as possible so that our newest customers can take advantage of our broad range of products and services, including our attractive online and mobile banking options."
Sandler O'Neill acted as exclusive financial advisor and Silver, Freedman, Taff and Tiernan LLP served as legal counsel to Great Southern. Deutsche Bank Securities acted as exclusive financial advisor and Debevoise & Plimpton LLP served as legal counsel to Fifth Third Bank.
With total assets of $4.1 billion, Great Southern currently offers banking and investment services. Headquartered in Springfield, Mo., the Company operates 110 retail banking centers and more than 200 ATMs in Missouri, Arkansas, Iowa, Kansas, Minnesota and Nebraska, and loan production offices in Tulsa, Okla., and Dallas, Texas. Great Southern Bancorp's common stock (ticker: GSBC) is listed on the NASDAQ Global Select Market.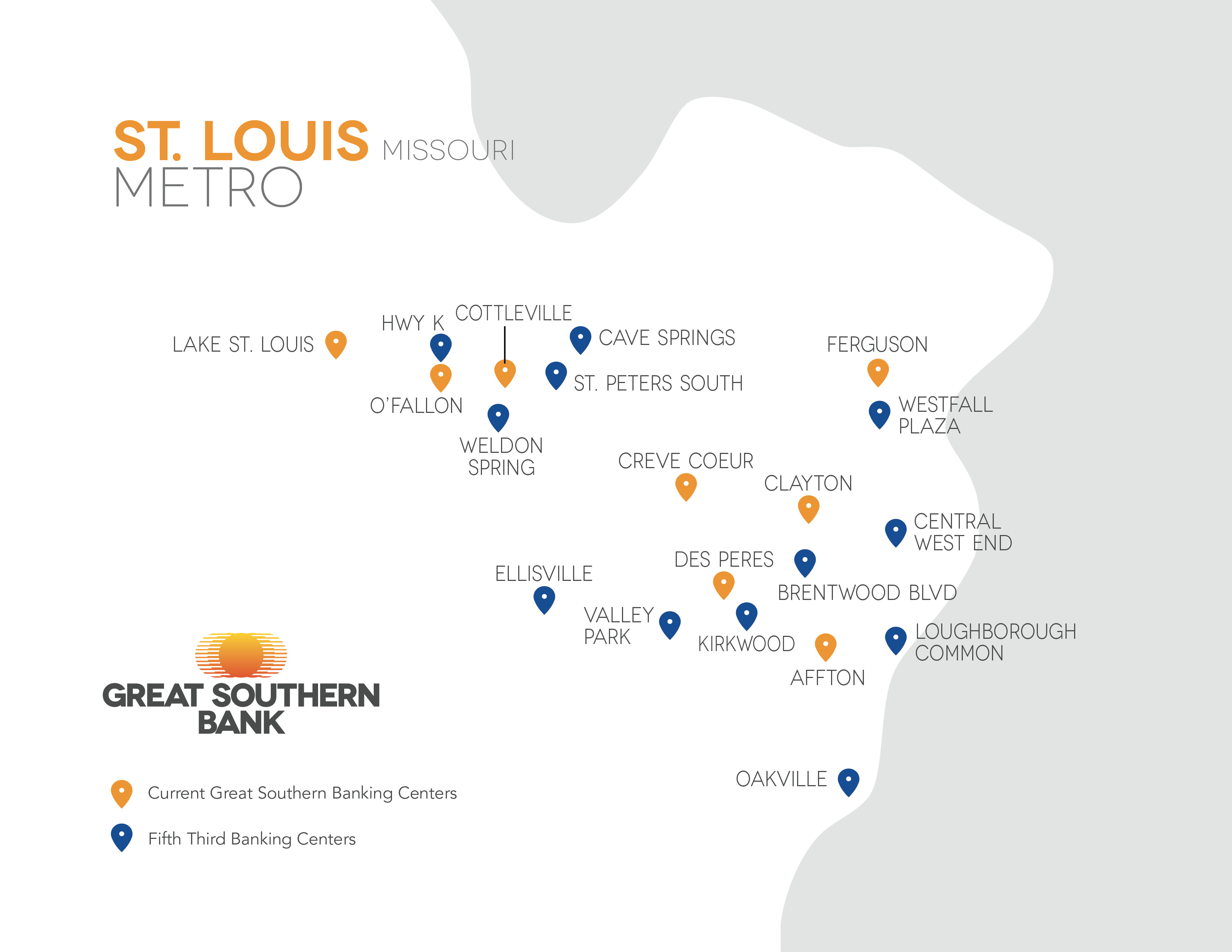 Forward-Looking Statements
When used in documents filed or furnished bythe Company with the Securities and Exchange Commission (the "SEC"),in this press release and the Company's other press releases or other public orstockholder communications, and in oral statements made with the approval of anauthorized executive officer, the words or phrases "will likelyresult," "are expected to," "will continue," "isanticipated," "estimate," "project,""intends" or similar expressions are intended to identify"forward-looking statements" within the meaning of the PrivateSecurities Litigation Reform Act of 1995. Such statements are subject tocertain risks and uncertainties, including, among other things, (i)non-interest expense reductions from Great Southern's banking centerconsolidations might be less than anticipated and the costs of theconsolidation and impairment of the value of the affected premises might begreater than expected; (ii) the requisite regulatory approval of GreatSouthern's pending acquisition of branches from Fifth Third Bank (the "BranchAcquisition") might not be obtained within the anticipated time frame or atall; (iii) expected revenues, cost savings, earnings accretion, synergies andother benefits from the Branch Acquisition and the Company's other merger andacquisition activities might not be realized within the anticipated time framesor at all, and costs or difficulties relating to integration matters, includingbut not limited to customer and employee retention, might be greater thanexpected; (iv) changes in economic conditions, either nationally or in theCompany's market areas; (v) fluctuations in interest rates; (vi) the risks oflending and investing activities, including changes in the level and directionof loan delinquencies and write-offs and changes in estimates of the adequacyof the allowance for loan losses; (vii) the possibility of other-than-temporaryimpairments of securities held in the Company's securities portfolio; (viii)the Company's ability to access cost-effective funding; (ix) fluctuations inreal estate values and both residential and commercial real estate marketconditions; (x) demand for loans and deposits in the Company's market areas; (xi)legislative or regulatory changes that adversely affect the Company's business,including, without limitation, the Dodd-Frank Wall Street Reform and ConsumerProtection Act and its implementing regulations, and the overdraft protectionregulations and customers' responses thereto; (xii) monetary and fiscalpolicies of the Federal Reserve Board and the U.S. Government and othergovernmental initiatives affecting the financial services industry; (xiii)results of examinations of the Company and Great Southern by their regulators,including the possibility that the regulators may, among other things, requirethe Company to increase its allowance for loan losses or to write-down assets;(xiv) the uncertainties arising from the Company's participation in the SmallBusiness Lending Fund program, including uncertainties concerning the potentialfuture redemption by us of the U.S. Treasury's preferred stock investment underthe program, including the timing of, regulatory approvals for, and conditionsplaced upon, any such redemption; (xv) costs and effects of litigation,including settlements and judgments; and (xvi) competition. The Company wishesto advise readers that the factors listed above and other risks described fromtime to time in documents filed or furnished by the Company with the SEC couldaffect the Company's financial performance and could cause the Company's actualresults for future periods to differ materially from any opinions or statementsexpressed with respect to future periods in any current statements.
The Company does not undertake-andspecifically declines any obligation- to publicly release the result of anyrevisions which may be made to any forward-looking statements to reflect eventsor circumstances after the date of such statements or to reflect the occurrenceof anticipated or unanticipated events.
---